Image Capture
Moran Scientific offers a cost effective, professional, complete system for image capture and image processing.

Screenshots

Live Viewing and Electron Microscope Image Capture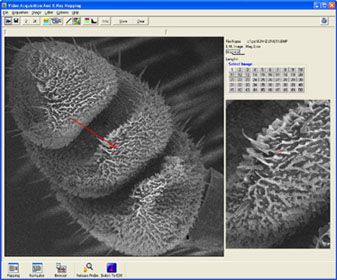 Product Features

View 'live' images on screen and display images to resolution of 4096x4096 pixels.
Automatic focus, brightness, contrast and stigmator functions available.
Simultaneous display of up to 50 images using any type of EM image.
Image zoom and image enhancement.
Image manipulation (flip, rotate, and filter).
Easy setup of thresholds for colouring images. Pseudo colour and stereo imaging available.
Draw a line on the image across a feature of interest and determine length of the line. It is optional to have the Micron marker displayed.
Stored images easily accessible
Cut and Paste images into other applications for automatic report generation.
Standardised .BMP output. Any Windows software package can read it.
A complete on-line help, plus manuals and much more...
Any Questions?

Please feel free to contact Moran Scientific to discuss your requirements or request a brochure.